Blue Cabinet Colours
February 10, 2020
Blue Cabinet Colours
Pantone's 2020 colour of the year is Classic Blue. Pantone describes the colour as "instilling calm, confidence, and connection, this enduring blue hue highlights our desire for a dependable and stable foundation on which to build as we cross the threshold into a new era."
The colour blue has a calming effect. It resembles the sky and the water, offering peace and tranquillity. At The Door Maker, we offer many shades of blue. Blue cabinets are very versatile and can be used in your kitchen, bathroom, and mudroom.
Mysterious Super Matte is one of our newest colours. We've seen our customers use this colour in the kitchen and bathroom and it is absolutely stunning. Who doesn't love the sleek touch of a matte finish? Matte cabinetry is a very popular kitchen trend that we are seeing that isn't set to go out of style any time soon.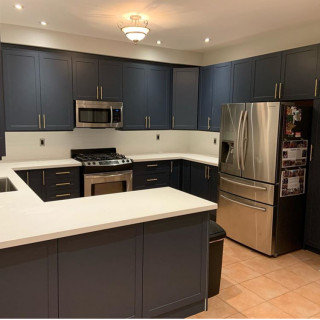 Another colour we've recently added is Beach Super Matte. It is a very soft and light shade of blue. If you want to add some colour to your room, but don't want to go too bold, then this is an excellent colour choice.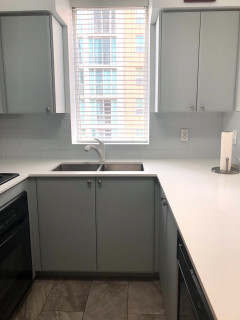 Alternatively, if you're looking for a bold shade of blue then you might like Royal Blue Gloss or Petrol. Royal Blue has a high gloss finish. It is so glossy that you can actually see your reflection in it! On the other hand, Petrol has a matte finish.

Other shades of blue that you can explore are Magic Sapphire and Ceramic Blue. Magic Sapphire has a bit of sheen whereas Ceramic Blue has a wood grain texture to it.

You can browse our shades of blue here:

Or you can stop by our showroom to see them for yourself and to grab some swatches!